MAMIBIKE 16 foldable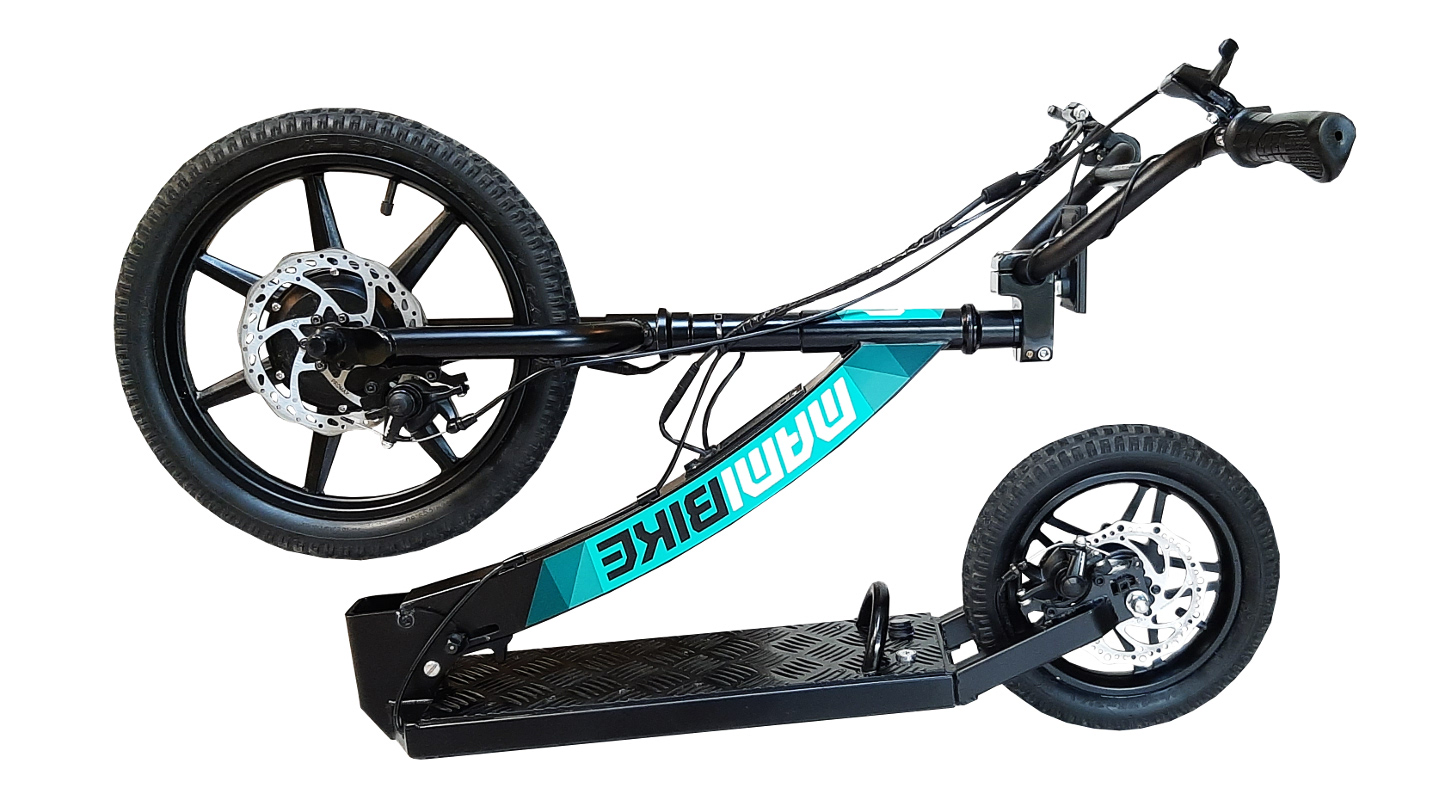 Weight
17
Price
From 1430 EUR Sales price incl. VAT
Foldable electric scooter. This electric scooter has a steel frame with a stainless steel folding part. The fork is aluminum. Wheel sizes are - front 16 "and rear 12".
Popis produktu
The MAMIBIKE 16 foldable electric scooter is the smallest model with an LCD display integrated in an aluminum stem with a speed indicator, walking assistant, the possibility of programming basic parameters of the control unit (number of stages, wheel diameter, max speed, etc.), etc. This electric scooter has a frame made in combination stainless steel It is equipped with an aluminum fixed fork and hydraulic disc brakes. The front wheel is 16 "and the rear wheel is 12". The neck of this electric scooter can be easily folded down.
This model is available in all color modifications.
This model reflects the experience and wishes of MAMIBIKE electric scooter users.
Technická specifikace
table with parameters
Frame
Steel
Fork
Aluminium 16" 1 1/8 AHEAD D
Brakes
hydraulic disc 180/140 mm
Rims
front 16", rear 12"
Tires
front 16×1,75, rear 12×1,75
Stem
BMX
Motor
36V/10Ah, Li-ion, dockable, in tread, weight 2.9 kg
Control unit
integrated in the frame
Control

Accelerator on the right side of the handlebars, three-button display control on the left

Battery
36V/10Ah, Li-ion, dockable, in tread, weight 2.9 kg
Charger (optional part)

1. STC-8150LC/4A, charging time of an empty battery approx. 2.5 - 3 hours

2. STC-8127LC/2A, charging time of an empty battery approx. 5 hours

Speed
limited to a maximum of 25 km / h
Range

25-35 km (distance to one the charge can be significantly increased by active user involvement or reduced by ambient conditions such as hilly terrain).

Dimensions (LxWxH)
1270 x 640 x 970 mm; folding 1040 x 400 x 970 mm
Tread headroom
90/75 mm (without load)
Tread high
120/105 mm (without load)
Load capacity
max 100 kg
Weight
17 kg